COMPANY
Cottoncandy provides a platform that connects technology and people, not just a device to device.
CandyBox for IoT, selected as official monitoring platform for Seoul's mini solar power plant Business.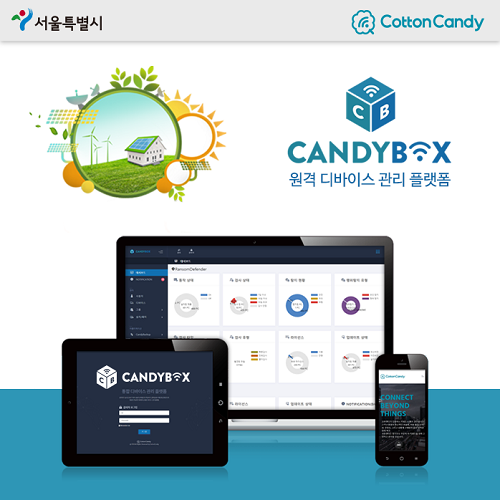 Currently, photovoltaic power generation is one of the industries that is growing rapidly due to climate change. With the catchphrase, 'Seoul, the City of the Sun', Seoul metropolitan government is planning various solutions for photovoltaic power generation expansion.
However, there is some problems in mini solar plant installed household. Households unable to check whether the power plant works properly or not, and unable to know the power generation efficiency.
Accordingly, Seoul metropolitan government decided to proceed 'Seoul Mini Solar Power Plant Monitoring Project' for demonstrational operation, and CottonCandy's 'CandyBox for IoT' will be used as the official platform.
CandyBox for IoT is a web-based IoT device monitoring platform. Each households can check the amount of power generated by the power plant installed in my house, and it is easy to request A/S through customer page. In addition, Seoul Corporation and Seoul Energy Corporation can monitor the status of power generation, so that they can check performance of entire business.
With this mini solar business, CottonCandy plans to accelerate finding opportunities to integrate IoT technologies with various industries such as smart factories, smart farms, and smart cities.